—by Kristyn Bacon
Berlin is famous for its dramatic history, rich culture, and dynamic nightlife. What a lot of people don't know is that there are a lot of things to do in Berlin with children and teens. I worked as an au pair for a year in Berlin, and I enjoyed the small daytime adventures as much as Brad* did.
City Life
Berlin has one of the best transportation systems in the world. It is fast, accessible, and cheap. Children up to the age of 6 ride free, and a ticket for kids from 6-14 years old costs 1.40 EUR (about $1.59 USD). The city is also a very safe and child-friendly place. All the families that I know let their 10-14 year olds ride alone on the buses; the bus driver is right there so the children feel very safe. Most of the school kids walk home alone, too, even in the inner city. Like every city, pedestrians are required to abide by the lights at the crosswalk. While not every Berliner follows this rule, they follow the unspoken rule that they are not to jaywalk in front of children!
Outside
Berlin is absolutely amazing in the summertime. There are dozens of parks, big and small (Körnerpark to Tempelhof) and also some great lakes on the outskirts of the city. Grunewald (S-bahn Grunewald) is one of the biggest forests in the area and offers great hiking trails. There is a huge hill just 15 minutes from the S-bahn where families go to fly kites and look out over the city. Teufelsberg is just over the other hill, so very brave kids can climb up to the abandoned radio tower. The U3 will take you directly to Krumme Lanke where you can swim, picnic, and even rope-swing! The kid-filled area is a 15-minute walk from the entrance; turn right at the lake and follow the path to a large sandy area. The tree with the rope swing is just three minutes on the path if you turn left at the lake. It is about 2.5 meters (about 8 feet) above the water.
Winter is cold and grey, but still a great time to be outside! Bring, buy, or borrow ice skates, because as soon as it is ice, it is fair game for skating! The best place in the city for snow and ice is by the U4 Rathaus Schöneberg. There is a small pond just outside of the station that freezes entirely (it is not even half a meter deep) and is usually full of teens playing hockey or broom ball. There is also a great hill where you can sled.
Especially for teens: Mauerpark, translating to 'Wall Park' is a famous park in Prenzlauer Berg (U2 Eberswalder Str.). They have a huge flohmarkt every Saturday, with at least 100 stands and tents selling clothes, records and CDs, jewelry, handmade artisan crafts, and lots of food. In the spring and summer, a group comes out and sets up free karaoke for the public.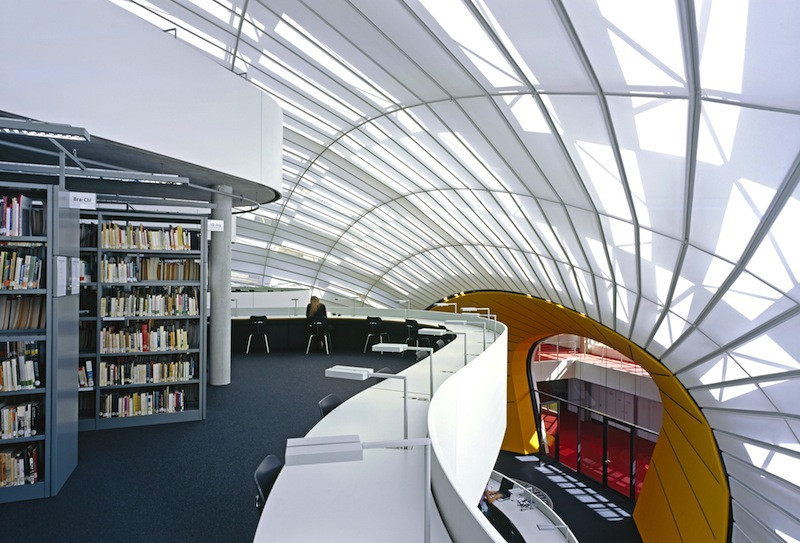 Inside
There are dozens and dozens, maybe a dozen dozen, of museums to choose from, and you should definitely see as many as you can. However, even over the museums, I would recommend visiting the libraries in Berlin. They are beautifully built, free, cozy, and they represent the hugely varying neighborhoods in Berlin. My two favorites are in Steglitz and Neukölln. In Steglitz (Rathaus Steglitz, U9, S1) you will find a huge selection of books for kids and teens, in English and German, computers for them to use, and a great view of one of the most famous shopping streets in Berlin, Schloßstraße. Brad and I went here every week to read in English and German. You will find all the same things in Neukölln's library (U7 Rathaus Neukölln), plus a rooftop garden with a great view of the entire city. Just go out onto the parking garage, walk up one level, and you'll see an arrow to the garden.
Still want to swim? There is an amazing, amazing, AMAZING schwimmbad (swimming hall) in Schöneberg. Take the M48 or M85 to Albertstraße and you'll see the giant hall. Entrance for kids is a little more than 3 EUR, and for adults it costs 7 EUR. There are three pools: one baby pool; one kid's pool with a slide and an outside portion with heated water; one Olympic-sized pool that goes 3 meters deep, has windows underwater, and a high and low diving board; and there is a relaxation pool for adults to lay out and relax. There is a place to buy snacks inside, but we always brought our own. You can stay the whole day if you have enough snacks!
Especially for teens: There is an independent theater called 'Babylon' that offers free movies every Saturday night at midnight. It's called 'Null Uhr, Null Euro.' Get there on Saturday night at 11:45PM, at U2 Rosa-Luxemburg-Platz, find seats in the beautiful, old theater, and enjoy the free silent film. There is even a woman playing the organ throughout the entire show!
Nightlife (Only for teens!)
There are clubs all over the city, with great music and a very relaxed atmosphere. Teens are also invited, as Berlin constantly welcomes European and international exchange students. Kids aged 16 and older are allowed in most clubs. Those who are under 18 receive a certain stamp and can stay until midnight. The legal drinking age is 16, and it allows teens to drink beer and wine. Those 18 and over can drink spirits as well. There are also 'clubs' for kids under 16; these parties offer dancing, nonalcoholic drinks, and a chance to meet kids from other parts of the city. They are usually promotional, whereas official clubs allow teens every night.
With so many wonderful things to do in Berlin with kids and teens, you really should add it to your destination list.
*Not his real name.
K
ristyn Bacon is the founder and editor of Trainless Magazine as well as a freelance writer. Her stories have been published by literary journals such as MOOKYCHICK and DEW ON THE KUDZU and are included in anthologies by BOOKIMBO and SWYERS PUBLISHING. Her sports writing has been published by INSIDE DIRT and DAN HOLLOWAY, EIGHT CUTS. An architect read her work and compared it to George Saunders.